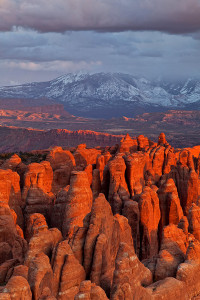 Over the years I've received much great advice that has contributed significantly to my growth as a photographer.  While guiding a photographer last week who was only bitten by the photo bug a few months ago, I offered a simple piece of advice: "Sweep the edges of your viewfinder before making an exposure."  It was something I learned ten years ago while reading a "how-to" book published by Arizona Highways.  At the end of the day I was happy to hear her say that she learned more during our few hours together than she had in several months on her own.  I always find it rewarding to help other photographers learn and grow as artists.
On the drive home I began to reminisce about all the little nuggets of wisdom I've learned in the past eleven years.  Some came from books, others from magazines and even more from other photographers.  Regardless of their origin, each one has benefitted me in some way.  Like many of you, I never want to stop learning.  No doubt, the advice below is only the beginning of what will surely be an even longer list in another eleven years.
Sweep the Edges - Since I mentioned this one in the introduction to the article I thought I'd start off with it.  It's also one of my favorites and something I do every time I compose an image without even thinking about it.  Very simply, once you have composed a scene in your viewfinder do one final visual sweep of the edges of the frame before depressing the shutter button.  You're looking for little distractions.  It might be a branch intruding into the frame, a bright spot in a corner or even the foot of your tripod creeping into the bottom of your composition.  This will also force you to slow down and spend more time crafting a deliberate composition.
Don't Forget to Turn Around - I read this very early in my career in a "how-to" book published by Arizona Highways that seems to have been discontinued.  The author's point is simple: no matter how awesome the scene before you is, always remember to glance over your shoulder because it just might be even better behind you.  I follow this advice on nearly every photography outing and it has netted me some of my favorite images.
Don't Forget to Look Down - I learned this lesson while viewing Tom Till's image of colorful desert wildflowers pushing through cracks in mud.  The placard next to it explained that while Tom was photographing a grand landscape he happened to look down and found a scene far more original and interesting than the one he had intended to photograph.  You just never know what you'll find if you keep an open mind!
Include People in Your Photos - This one certainly won't apply to everyone.  However, it's a valuable tidbit of advice that has certainly been favorable to my bank account.  My good friend Todd Caudle, who has been one of the most generous and inspirational pro's for the entire length of my career, is responsible for this one.  While photographing wildflowers at Lost Dutchman State Park about ten years ago, Todd suggested that I consider including people in my photos.  Todd suggested that photographing my girlfriend at the time while hiking, climbing, canyoneering and mountain biking would open doors to some of the outdoor magazines.  I didn't take his advice seriously until I met my wife, Melissa, a few years later.  It's a shame I waited.  Had I immediately began following Todd's advice I surely would have been published much sooner.
Look For and Exploit Reflected Light - We've all seen photos of Antelope Canyon's sculpted walls glowing neon with reflected light.  Until I gathered this piece of advice from uber-talented photographer and friend Guy Tal, I wasn't aware that reflected light was so prevalent in nature.  And, it even happens on a grand scale.  Clouds reflect light back down on to the landscape and massive cliffs bounce light all the way across the Colorado River canyon near Moab.  Snow reflects light into shadows.  Once you learn to identify reflected light you can easily use it to your advantage – even when photographing in mid-day.
Don't Immediately Set Up Your Tripod - I can't remember where I learned this but it's made a huge difference in the quality of my compositions.  Upon arriving at a location spend some time exploring the area before you plant your tripod.  Experiment with different vantage points.  Try getting low to the ground or finding an elevated perch.  Maybe you'd originally intended to go wide angle but a more interesting scene in the distance demands a telephoto?  Even a few steps to the left or right of you're standing could make a dramatic difference.
Bad Weather = Good Photography - Another great piece of advice whose origin escapes me.  Bad weather often creates the most dynamic conditions for photography.  Menacing clouds, storm light, fog, rain and snow can all contribute to amazing photography.  Or they can flat out suck.  That's the chance you take when you wander out on a stormy day to make photographs.  But instead of bemoaning the fact that rain is in the forecast, get excited by it.  Overcast?  You couldn't ask for better light for intimate landscapes.  Fog?  If it's winter you might find hoar frost.  Summer?  Look for features in the landscape playing hide and seek behind a veil of fog.
Adapt to the Conditions - This one ties in nicely with the one above.  Most of us have probably taken a trip to a far off location with the intent of photographing our hearts out only to find lousy weather upon our arrival.  There is alwayssomething to photograph.  It may not be what you came for, but if you stay positive and learn to adapt you will be able to make images.  I don't remember where this one came from but it's advice I've learned to follow.  Bonus: Not only do I get to make photos regardless of the conditions, but I'm much happier and less stressed out, too.
A Bad Day in the Mountains is Better Than a Good Day in the Office - This one comes to us from Todd Caudle.  And you know what?  He's right.  Wouldn't you rather hike ten miles into the mountains to photograph sunrise at an alpine lake only to be defeated by a dull gray overcast than spend one stinkin' minute staring at your computer monitor?  I would.  I will add one small caveat: A bad day in the mountains is better than a good day in the office – so long as you don't have to cut off your own arm!
Certainly you've all received some sage advice over the years.  Why not share it with us in the comments section below?  I, for one, am always open to good advice!